The Four Hurdles To Jump In The
Digital Adoption Race
With the onset of the pandemic in 2020, it was as if the entire world went digital. Companies enabled remote work, retailers encouraged online shopping, and staying in touch with loved ones became entirely virtual. Although so many aspects of our personal lives have been transformed through digital services, there is still a great deal of work to be done when it comes to digital adoption within the workplace.
Let's take a look at some of the challenges companies face when it comes to digital adoption and how we can help you overcome them.
Change Management
The ultimate goal for most organisations is to create happy clients who return. A digital-first strategy should not only enhance customer service but also create a meaningful and positive experience for employees. However, even investing in the most advanced software money can buy will yield a low ROI if no one in the organisation wants to use it.
This is where we can help you through change management. We focus on changing the mentality and approach throughout all the levels in your organisation in order for the implementation of new technology processes to be met with enthusiasm and optimism instead of resistance and fear of change.
A 2021 Digital Business study mentions that businesses who adopt a digital-first strategy can expect an average revenue increase of 34%.
Digitally-adept Employees
According to a study published, employees spend an average of 22 minutes every day figuring out how new applications work.
To decrease and potentially eliminate this time expenditure, companies need to prioritise the onboarding process of new employees, upskilling existing employees while tackling challenges linked to data processing, customer intimacy, speed and customer journey optimisation.
In order to drive digital adoption and boost a digital skillset, organisations have to work on making the interaction between humans and machines as natural as possible.
In areas like automation, machine learning, and artificial intelligence; innovative applications that provide and organise information into usable data in real time is required. So are the skills to utilise the software.
Instilling Curiosity and A Hunger To Learn
In life there is always something new to learn. So, implementing the same lifelong learning culture and mentality within your organisation will help keep your company on top.
Investing in your employees and regularly upskilling them with crucial digital know-how is vital to guarantee scalability and sustainability. This will dramatically increase the ROI derived from the implementation of new software and creates more room for innovation as employees gain an understanding of digital workflows and processes.
Strategy Supportive Solutions
A digital-first strategy and its supportive solutions go hand-in-hand. One cannot thrive without the other.
Many businesses realise the need to transform and that being digitally enabled will help them gain a competitive advantage. However, there are many businesses that feel they're missing the mark when it comes to solutions that support their strategy.
As we know with digital infrastructures and software, updates and changes in technology occur so frequently that traditional training simply can't keep up. Combining that with the fact that people forget 90% of their training within a month, it's easy to see just how important it is to have solutions that support your digital strategy.
Here's Where We Come In
To compensate for the training and retraining programmes, you need to have an agile solution that provides performance support, such as a User Adoption Strategy which happens to be our forte!
If you're ready to become a confident, digital-adept organisation, click below.
Don't miss more articles by The CRM Team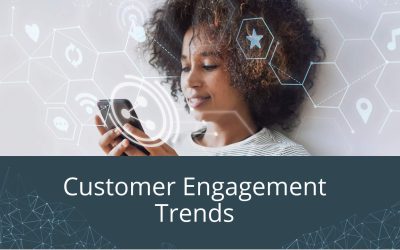 Customer Engagement TrendsBrands are built on the success of their customer service. Instead of it being a responsive measure to deal with complaints, companies are learning to take personalised, empathetic customer care right to the heart of everything they do. This...