10 Tech Trends to Expect in 2023
With the pandemic accelerating digital transformation, 2022 was hit hard by the digital revolution. Technology is enabling more people than ever to stay connected both personally and professionally, putting pressure on the global economy to keep up. As we approach 2023, let us take a look at ten trends to keep an eye on.
1. Artificial Intelligence (AI)
AI is hardly a new concept. As we move into next year and beyond, artificial intelligence is going to continue to permeate virtually every aspect of our lives. More organisations are expected to implement AI in 2023. With its easy drag-and-drop interface, No-code AI will be used by any business to create richer products and services.
AI has the potential to transform and streamline industries across the board, from finance to education. As a result of its ability to train, learn, analyse, and produce large volumes of output, it has the potential to replace much manual work humans are required to do every day, preventing them from focusing on the bigger picture, improving their skills beyond basic needs, and influencing their industries' future and direction.
2. The Metaverse
There is no doubt that this is the future of the internet. While it is hard to predict exactly what it will look like, what we do know is that a more immersive experience is on the way, with the ability to 'try on' clothes via virtual reality already possible. The year 2023 may be the year when phones, headsets, glasses, and more become more integrated into the metaverse.
It is already common for companies to use metaverse technology for training and onboarding, and in 2023, this trend will accelerate.
Several experts predict that the metaverse will contribute $5 trillion to the global economy by 2030, with 2023 being the year that defines how it will evolve in the decade to come.
3. Cybersecurity
Like any other year, 2023 will see developments aimed at combating real-world threats. Cybersecurity is one of the greatest threats facing governments, businesses, and individuals today. Businesses should invest in high-quality cybersecurity products and keep them up-to-date and should also invest in staff training to ensure that the team recognises scams and can handle their tasks safely. In the recent past, attacks have spiked in part because of remote workers, who can leave organisations vulnerable.
4. Superapps
The next step in application development will be the development of superapps that allow users to control most aspects of their business ecosystem from a single app. Approximately 50% of the world's population will use superapps every day, according to Gartner. In some cases, these. Superapps may have mini apps that serve as add-ons and provide benefits beyond those already offered.
Superapps can connect to all systems and linked accounts (savings accounts, credit cards, etc.), and perform transactions at all systems (buying mutual funds, stocks, groceries, insurance, etc.) with one app. One superapp will be capable of delivering multiple experiences around a person's daily life. For instance, an app that provides news, checks the user's vitals, buys groceries, buys tickets, provides entertainment via OTT, tracks delivery status, tracks bank balances, and notifies about meetings, other tasks, etc.
5. IoT (Internet of Things)
This is another trend that has been featured on trend lists for several years. However, its effects will likely be felt as late as 2023 and beyond. Connected devices and devices that can interact with each other will become more and more common. It is now possible to connect many "things" to the Internet and to each other using Wi-Fi. Thus, the Internet of Things. There is no question that the Internet of Things will revolutionise the way we live, and has already made connected devices, home appliances, cars and much more possible.
6. Cloud Computing
Cloud migration will continue to take place in 2023 with companies transferring their mission-critical resources to the cloud. According to Gartner, by 2023, public cloud spending will reach roughly $600 billion, as businesses increasingly recognize the value of cloud computing. As a result, businesses will increasingly opt for industry cloud platforms, designed to meet the specific requirements, needs, and best practices of industries. 
7. Digital and physical worlds interconnected
We are already seeing the emergence of a bridge between the physical and digital worlds, and this trend will continue into 2023. A digital twin and 3D printing are two components of this merger.
A digital twin is a virtual simulation of a real-world process, operation, or product that allows the testing of concepts and ideas in a safe virtual environment.
The use of digital twins enables designers and engineers to test physical objects under any conceivable condition without incurring the high costs of real-life experiments. Manufacturing, machinery, cars and precision healthcare will all benefit from digital twins in 2023.
8. Blockchain
Currently, blockchain is primarily used in the financial sector, but by 2023, this secure technology will expand to the healthcare, government, and educational sectors.
Companies will be able to decentralise trust and security in a way that is impossible to tamper with, driving innovations in security and data exchange. Blockchain will have endless applications, including the storage and transmitting of personal information like health records, as well as the verification of high-end products over long periods of time.
9. Sustainable Technology
The threats to the environment have become apparent over the last few years, and most of us are aware of the need to continue evolving our behaviours and practices to be more ecologically friendly. Business and branding are constantly evolving, but in 2023, sustainability will become the number one business branding innovation. As a result, technology will play a significant role in reducing the carbon footprint businesses leave behind.
Consumers will continue to demand energy-efficient and sustainable products and services in 2023, pushing supply chains toward greater transparency.
10. Digital Immune System
Digital product teams are now responsible for 76% of generating revenue, so CIOs will have to adopt new practices and technologies for software design, development, automation, operation, and analytics that will improve user experience while reducing system failures. Gartner predicts 80% less downtime for organisations that invest in digital immunity by 2025.
Join the Digital Transformation
Don't miss more articles by The CRM Team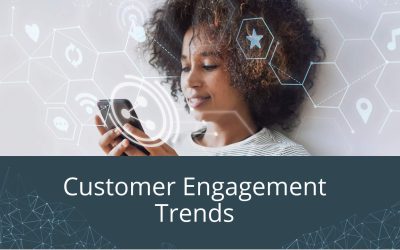 Customer Engagement TrendsBrands are built on the success of their customer service. Instead of it being a responsive measure to deal with complaints, companies are learning to take personalised, empathetic customer care right to the heart of everything they do. This...