Top ecommerce trends for 2023
ECommerce is one of the most rapidly evolving industries in the world. In order to remain relevant and competitive, businesses must stay up to date with the latest eCommerce trends as well as the ever-changing expectations of their customers. You risk losing sales if you fall behind.
A revolution has taken place in retail because of e-commerce. With its evolution, online shopping has become easier for modern-day consumers and has met their changing needs.
In its early years, ecommerce had relatively limited capabilities. Those days are over. Whether it is customied products, improved return policies, or improved integration, all these changes (among others) have revolutionized ecommerce. And the ecommerce industry will only continue to evolve in 2023.
In 2023, take advantage of these emerging trends in ecommerce to take your business to the next level.
Personalisation is essential
In any industry, whether it is business-to-business or business-to-consumer, you need to personalize your communications. No matter how you use it, whether in marketing or on your eCommerce site, it can result in more sales. It is expected that eCommerce brands will leverage data for more than just insights in the next few years. Online stores will use customer data to expand their product range and to see where and how they can improve the customer experience.
Artificial Intelligence adoption
The concept of artificial intelligence (AI) refers to the development of technology that mimics human intelligence. By learning and adapting to consumer behaviour, it can produce more accurate and valuable results. The adoption of AI technology can enhance the buying experience for customers. It is predicted that AI will be a major player in eCommerce in the future. Many leading brands and companies invest continuously in artificial intelligence.
A significant percentage of businesses use AI for personalization (70%) and site search (54%).
It is evident that personalization is a trend that's gaining traction steadily. Through personalization, users can receive suggestions for products and targeted emails based on previous activities. Personalized customer experiences help businesses attract and retain customers without using additional marketing techniques.
Site search powered by AI utilizes machine learning and natural language processing (NLP) to determine the intent behind the search query and to provide the most relevant results.
Thanks to the advancement of artificial intelligence, shoppers can conduct searches using images instead of typing keywords.
The evolving role of social media in ecommerce
A rapid rise in social shoppers is also evident. Ecommerce has taken off with the introduction of Facebook and Instagram Checkout's Buy button. The use of social media has transformed the way we live our daily lives, including how we shop. For brands, this is an opportunity to improve their social media presence, which is an excellent platform for brand discovery.
Through these social media platforms, brands can gain visibility and inspire people while scrolling through their feeds. The power of social media to influence ecommerce trends will only increase as it becomes a regular feature of our lives. As a result, brands need to adopt a social media strategy that focuses on the shopping experience.
The importance of omnichannel selling cannot be overstated
Multichannel sales are no longer a luxury – they are a necessity in today's business world. The fact is consumers purchase products through a variety of channels. It is vital that businesses reach their customers where they are.
As increasingly new selling channels emerge, omnichannel selling has dominated eCommerce since 2022 and will continue to do so in 2023 and beyond. Retailers are challenged to provide a consistent yet diversified shopping experience across all channels, whether in-person, online, or via a mobile app.
The future of shopping is virtual reality (VR)
Ecommerce storefronts that offer creative and innovative VR experiences will drive consumer adoption. To make an informed purchasing decision, people are concerned about the inability to physically see the products This gap can be bridged by virtual reality technology, which allows online shoppers to better visualize the products in which they are interested.
The impact of this could be profound for ecommerce businesses. A VR/AR experience can shift the perception of products online customers intend to purchase. With virtual reality, you can help your customers better understand if your products meet their needs.
The use of virtual reality is not only enhancing the customer experience, but also allowing shoppers to evaluate and explore products in the same way they would during an in-person shopping experience.
Conversion Rate Optimization
One of the essential tasks when running an eCommerce website is to convert your traffic into purchasing customers. Applying conversion rate optimization (CRO) encourages site visitors to buy your products or sign up for your newsletter.
The future of CRO is customer centric. More marketers will focus on discovering what attracts visitors and what prevents them from taking action, guaranteeing the best user experience possible.
Optimizing the eCommerce site's performance is a great starting point. Business owners should strategize their eCommerce developments and optimise every customer touchpoint.
Support when not online with a chatbot
Recently, chatbots have gained popularity for their ability to communicate effectively and quickly with people as well as their ability to provide businesses with time and resource savings.
HubSpot's survey found that 90% of customers prefer "immediate" responses to marketing and sales questions. And 60% of customers defined "immediate" as 10 minutes or less. You know what this means – If you don't respond to your customers' queries quicker than your competitors, you might lose a chance to sell.
Because of that, increased store owners are using chatbots as "assistants" for their customer support team. The bot is online 24/7 and can be set up to answer present and frequently asked questions from your customers.
Thanks to technological advances, chatbots can provide more tailored service and product recommendations, making the shopping process more efficient and more enjoyable. This is a promising eCommerce trend that will explore in 2023!
With the advancement of technology and changes in consumer behaviour, one must keep an eye out for these ecommerce trends in 2023. Whichever ecommerce trend you decide to adopt, do it with the aim of improving the shopping experience for your customers and building a long-lasting relationship with them.
Take your ecommerce evolution to the next level by evolving with it side-by-side and taking advantage of these ecommerce trends.
Join the Digital Transformation
Don't miss more articles by The CRM Team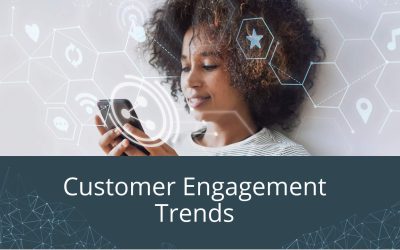 Customer Engagement TrendsBrands are built on the success of their customer service. Instead of it being a responsive measure to deal with complaints, companies are learning to take personalised, empathetic customer care right to the heart of everything they do. This...