And it's arrived just in time.
'We now live in a digitally transformed world.'
Customers are becoming more demanding. In the 70s/80s, great product was the differentiator. But in the 90s, as processes improved, services became more important. Today we expect great experience. If the experience is not slick and quick – we'll move on.
When we book taxis, we don't put up with being misheard anymore. Instead, we bypass call centres and order via an app. "Approximate" arrival times are no good. Instead, we want to track the taxi's every movement until it gets to us. Wasting time waiting in the rain doesn't cut it anymore… No wonder the taxi industry has been disrupted across the world.
Coming to an industry near you
This disruption is not just localised to certain industries. In the last 15 years, 52% of Fortune 500 companies have disappeared. Just last year, more than half of the Fortune 500 lost money. And to top that, company life expectancy is getting shorter.
Average Company Life Expectancy
1959 = 58 years
2015 = 15 years
2020 (predicted) = 12 years.
Ray Wang, Founder and Principal Analyst of Constellation Research Inc. put it this way:
"There's no time to wait… We're talking about a 3x to 4x compression in terms of age of a company since the 50s and 60s. So, if you're not making the shift—if you're not even moving in that direction—you're probably going to be merged, be acquired, or go bankrupt."
For the companies that adapt, there is huge opportunity for growth. Look at what Rolls-Royce has done:
Rolls Royce
Rolls-Royce
is the world's second largest airline engine manufacturer. They have been in existence for over 100 years but had to adapt to changing customer expectations. Instead of selling aeroplane engines they now provide engines as a service (EaaS?) Airlines rent engines from Rolls Royce and Rolls Royce get paid according to the duration of engine uptime. With their engines powering 50,000 flights per month worldwide, it's essential that Rolls-Royce receives real-time data so that they can spot costly problems before they happen. Through doing this successfully, their customers get a much better experience and this has had a knock-on effect on their order book. Over the last ten years, their orders per year have quadrupled and they have grown to a market capitalisation of GBP 13.7bn.
Thriving in the new digital economy
If you are able to provide the experience customers are demanding, you'll thrive in this new economy.
Enter Dynamics 365
It's a suite of cloud business apps that gives you complete control of your customer's experience with you – wherever they connect: marketing, sales, operations or service.
Built for you
Because of the urgency, Dynamics 365 is designed to get you started really quickly. Choose the area of the business you need to improve and purchase that app. For example, if you just need the sales app. you just buy that.
But Dynamics 365's power comes when you join a number of apps together – implementing business processes across traditional silos.
Track Prospect to Cash
By choosing both the Sales and Financials/Operations apps you can track a prospect right through to receiving their cash. Track the lead through to an opportunity, to quoting, to receiving the sales order, to delivering the goods or service, to invoicing and payment. A complete digital paper trail that can be analysed for insight, and monitored to ensure you give a consistent experience.
Because its built on the same data model as Office 365, you can do much of the process without leaving Outlook. Take a look at how incredible it is!
Increase Your Productivity
Transform customer engagements by giving your workforce accurate customer data, wherever they are. Dynamics 365 apps are available on iOS, Android, Windows, and the Web. You can work on or offline and everything will be synced in a way that avoids duplicates.
With products such as
Power Apps
and
Flow
embedded in Dynamics 365, you can even build your own apps to suit your business processes – without having to know code. Just drag and drop actions into a PowerPoint-style builder. Microsoft Flow allows you to automate processes between apps so that you have more time to do the things that matter.
Access Built-In Intelligence
Use digital intelligence to reimagine what's possible for your business. The data in the world is growing at a phenomenal rate, but it only is useful is you can make sense of it. Dynamics 365 comes with data vizualisation and Business Intelligence features in every app. You can quickly analyse your data stored in across Office 365 and Dynamics 365 and get intelligent insight, customised to you.
Also embedded into Dynamics 365 is the Cortana Intelligence Suite, so you can make use of the latest artificial intelligence and machine learning to improve your business processes.
For example, McDonalds are using its natural language function to capture orders at their drive-thrus. The system learns as it goes, so it gets better and better, saving staff and customers time.
Relationship Insights
gives users the ability to monitor sentiment. For example, it will track sales emails and highlight which opportunities need to be focused on according to deal size and sentiment.
Adapt to Your Business
As well integrating with existing systems, you can tailor Dynamics 365 with any number of pre-built add-ons in AppSource. So instead of extra functionality built you can check if somebody has already done it and quickly add it on to your solution.
So why not make sure your company adapts quickly in these changing times?
Adopt Dynamics 365. It might be the best decision you ever make.
PS. Do you know what solution Rolls-Royce chose to monitor their 13,000 engines? – I think you can guess.
Don't miss more articles by The CRM Team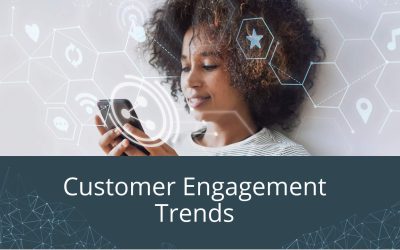 Customer Engagement TrendsBrands are built on the success of their customer service. Instead of it being a responsive measure to deal with complaints, companies are learning to take personalised, empathetic customer care right to the heart of everything they do. This...