What Are The Top 5
Digital Transformation Trends
Over the last two decades, most global companies have had the luxury of digitising over time, so why is it such a buzzword in 2022? As technology changes, companies need to be agile enough to adapt to the changes. Digital transformation is not a once-off deal, it's a process that's constantly evolving.
If you're looking to get ahead of the cultural shift, there are five digital trends that are set to take off in the near future.
What Is Digital Transformation
Digital transformation is fundamentally shaping new ways for businesses to improve experiences, from internal departments to the end-consumer. It's a cultural shift that involves adopting new technologies and harnessing the benefits to improve innovation, value, and efficiency.
Because of the pandemic, hybrid work models have been the forefront topic across the globe. We've had to change the way we work and interact with customers in all areas of business. It created a space where we had to shift the way we collect and integrate data while implementing a new space for employees to thrive.
Benefits Of Digital Transformation
Successful digital transformation can unlock business potential and help you  increase your return on investments. Based on their transformational efforts, the following benefits highlight what most companies find rewarding.
Improved Data Collection
Digital transformation optimises the way businesses collect and translate data. This means that departments can integrate raw data into insights across numerous touchpoints.  This is fundamental to accessing a single view of the operations, customer journey, production, and finance. With this, you can use data-driven insights to improve workflow efficiency and enhance customer experiences.
Managing Resources Effectively
From marketing and sales to C-suite, every department will be able to leverage off integrated applications, software and databases – a centralised portal that optimises business intelligence. This is a sure way to help keep employees connected while managing their day-to-day operations.
Access To Data-Driven Insights
You can now unlock insights that meet the needs of your customers. This is the perfect way to create a more effective customer-centric strategy. Data-driven insights not only help you become more agile, but it also helps you make informed decisions, improve operations and discover new business opportunities with sufficient market evidence. If you're an enterprise that places high-value on data, you're set to see competitors use more data insight practices and collaboration.
Improved Customer Experiences (CX)
One way to deliver a seamless customer experience is through digital transformation. Transformation affects the cadence of how your sales and marketing team discover new prospects. The challenge for most brands starts with the customer experience. Customers have limitless products and services offered to them day-to-day and it's important to break through the noise. One way of enhancing CX is to give customers autonomous control over their data. When you provide the right features to meet customers' needs, this will help your team manage expectations and earn long-term trust.
Shifting Digital Culture & Collaboration
Trends predicted that by 2020, "83% of enterprise workloads" will run on the cloud. Approximately 41% of these workloads were predicted to run on public cloud platforms like Microsoft Azure, Google Cloud Platform and Amazon Web Services. Private-cloud-based services were predicted to have an additional 20%, while hybrid cloud platforms accommodated 22%.
Not only do these tools deliver effortless collaboration, they also help your enterprise move forward digitally. In order for your business to remain sustainable, the latest digital shift is a crucial one.
With this, upskilling and digital learning can be enforced and employees are able to take advantage of the benefits.
Increasing Digital Adoption
In the evolving digital space, Implementing the right digital assets will elevate your business from the inside-out. Getting your employees to help drive the mission is a crucial part of your transformation.
To achieve business objectives, finding an effective user adoption strategy is a great place to start. Whether it's increasing CRM user adoption,  implementing AI applications, or both — It's important to find the relevant strategy that meets your business needs and employees' capabilities.
Top 5 Digital Transformation Trends For 2022
Getting to know what's ahead in the digital landscape will help you understand the why's and how's. Take note of the digital transformation trends that are set to take off in the near future.
Protecting data and efficient cybersecurity
Now more than ever, cybersecurity and data protection has become the next priority for 2022. During the course of the pandemic, customers spent more time on smart devices and companies were forced to move to hybrid work – having to adapt to new technologies in the process. As a result, a lot of companies recognise that automation and applications need to be secure in order to earn customer trust.
With that being said, customers are going to see a lot more high-placed value on security features that are being deployed to applications and software.
Automation
Small businesses are likely to adopt and automate processes going forward. It's predicted that within the next year, automation will go as far as medium-to-large enterprises due to more accessible solutions. Whether you conduct business in manufacturing, market research or customer support, a number of businesses will start implementing a combination of digital assets into daily workloads.
Cloud Solutions
Cloud-based services are incredibly scaleable, cost-effective and easy to use. As more enterprises move away from on-premise safekeeping, running applications on cloud platforms have become a 'must-have' solution. Where security is concerned, cloud platforms come with improved cybersecurity features that help keep data and sensitive information safe. In addition, your team will be able to collaborate more effectively and the cloud's scalability allows big data to thrive.
Hybrid Models (Working From Home)
Brought to you by the pandemic, hybrid working is set to become part of a permanent business model. What we can expect in the next year is an increase in employee expectations, and as the future of work heavily relies on connection – organisations will be forced to adapt. For instance, connecting virtually with colleagues is becoming a common hybrid solution for most. To drive productivity and employee retention, you will need to deliver digital-first solutions along with connected experiences that fit into the work from home space.
5. 5G and The IoT
Introducing the new age of mobile communication, the 5G network is set to define interaction on another level. When you invest in 5G and expand on the internet of things, your business will improve its cost and production. It will also become a concrete benefit for organisations that have adopted hybrid working. Greater flexibility, responsive networks and improved security are just some of the benefits that accommodate a connected future.
Digital Adoption Strategies
Within the last year, it was reported that 73% of businesses failed to meet the value out of their digital transformation efforts. According to forbes, 70% had failed adoption programs due to employee resistance. Businesses may understand the value of digital transformation but they're not getting the value from these assets because of poor adoption practices.
Adapting to the following strategies will help you get the most out of your digital assets:
First explore the digital assets that your business needs and plan how you're going to roll out new technologies. You can do this by creating awareness in phases. Use the first phase to highlight how the benefits will help your employees' manage day-to-day workload.
Create a workshop or event to drive hype around the new digital asset/s. You can successfully onboard employees by showcasing a detailed presentation and answer any questions that they may have. This could include training activities, benefits of the technology, and how it fits into the enterprise as a whole.
Poor communication leads to poor decision making. Start providing departments with the right know-how to prevent future project failures. Open up and support staff by letting them ask questions. Until the user gets comfortable with the tech, it becomes relatively easier to achieve adoption.
Training doesn't always come with a one-size-fits-all approach. Tailored learning can be super beneficial when dealing with new processes. People tend to learn and upskill at different stages, so be sure to personalise training.
Following up from time to time will allow employees to grow with your transformational efforts. It also helps them feel confident enough to implement future digital assets more effectively. Start surveying how well the programs are working and identify any gaps that are hindering growth and development.
Bottom Line
Companies are continuing to digitally transform their workforce. With the latest predictions, you'll be set to deliver steady, high-value solutions to your customers — while fostering happier, more productive teams. In addition to this, you'll be able to improve operational efficiencies every step of the way.
Explore the future scope of digital transformation. Learn how The CRM team can help you get there.
Don't miss more articles by The CRM Team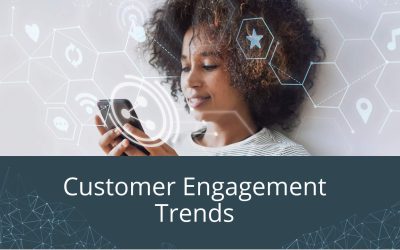 Customer Engagement TrendsBrands are built on the success of their customer service. Instead of it being a responsive measure to deal with complaints, companies are learning to take personalised, empathetic customer care right to the heart of everything they do. This...