Transformation to Value: Customer Data Platform
Marketing that lacks real-time data and client consent are referred to as Tone Deaf SPAM, and it is not only annoying but also unlawful under GDPR and POPIA regulations. I fell in love with customer data platforms (CDP) and Next Best Action software back in 2012, when I first met Dr. Shuki Idan, he lead the SAP product group called RTOM (real-time offer management). This was a SAP product that leveraged the power of HANA and was revolutionary at the time! 
The issue we had with RTOM and later SAS IMM was that it was pretty useless without data, and while it could influence customer behavior in real-time, lowering the cost of customer acquisition and increasing the profitability of each customer interaction with the next best actions, the business case was harmed by the cost and time required to set up a data warehouse. These great applications could have been deployed in weeks, but the underlying data warehouse need would take months, if not years, to fulfill. Completion did not always imply success since the business did not trust the data. 
Then… 
The door slams open, and Microsoft's Customer Experience Platform with Dynamics Customer Insights steps in (CI). (Imagine a scene from a cowboy film…) "Dynamics 365 Customer Insights enables businesses to combine all of their B2C and B2B customer data in real-time to provide AI-powered insights, resulting in a single view of the customer." Marketers can use interactive reports to enhance their customers' experiences, and AI-powered insights can help foresee customers ' demands faster. "Dynamics 365 Customer Insights serves both technical and non-technical users seamlessly, whether it's through a visual UI/drag and drop interface for marketers or advanced analytics for data scientists."  Microsoft was recently named a leader in the IDC MarketScape for Worldwide Customer Data Platforms.

The IDC MarketScape said, "Consider Microsoft if you are looking for user-friendly AI/ML modeling capabilities that do not require marketers (and other LOB users) to be data scientists." The report also noted, "Microsoft's CDP segments are created through automated discovery powered by AI, API configuration, and visual UI/drag and drop interface for markets and through analytic/SQL queries for data scientists. Segments are updated based on a variety of factors such as streaming web session data, geolocation, and dynamic modeling and based on batch data updates."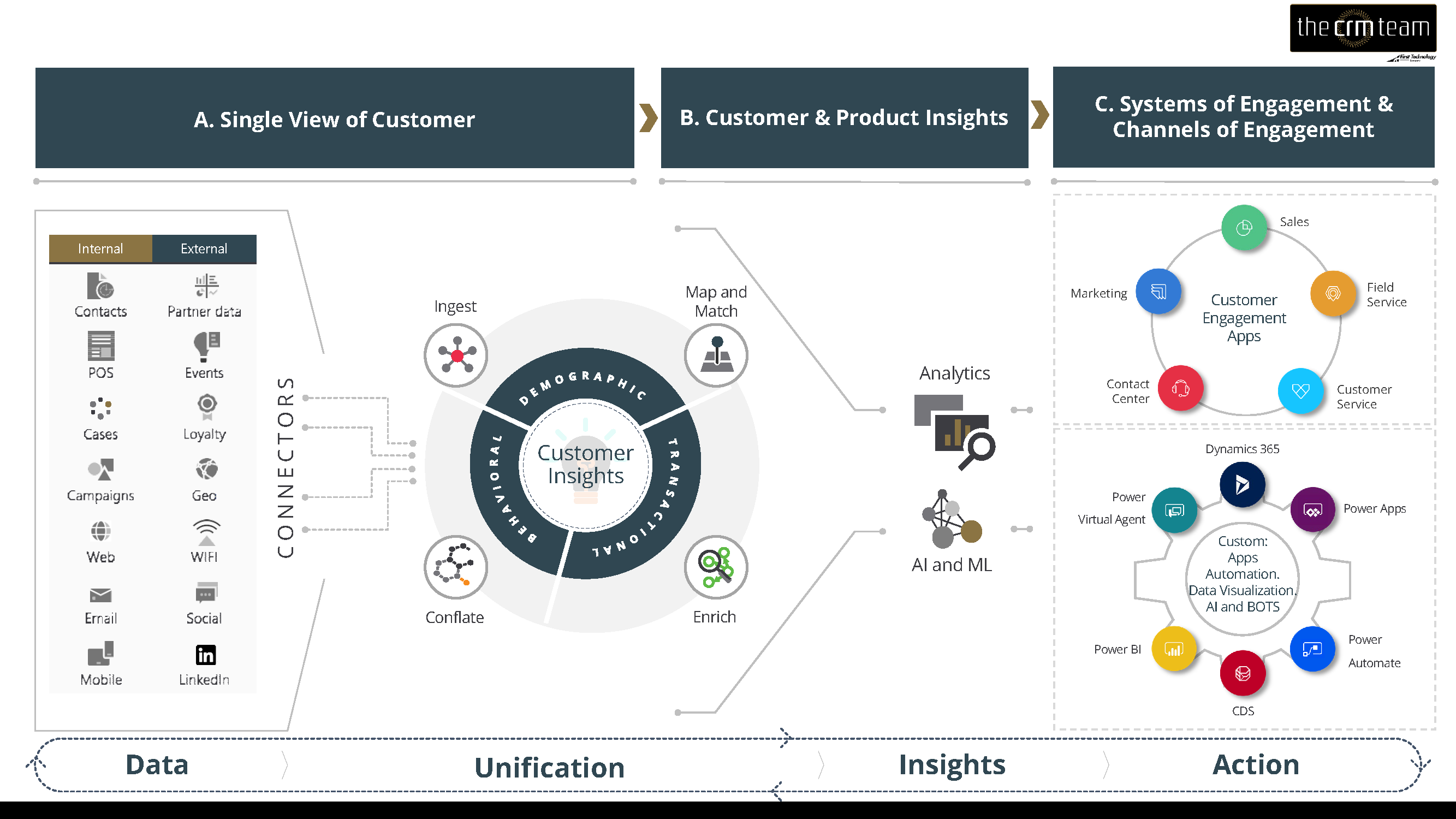 What is it about Customer Insights that makes it so unique? 
1. The manner in which you ingest data using power query connectors and a common data model, which takes days or weeks rather than months or years. Power query connectors are predefined integration points for over 500 apps, and as you may be aware, integration takes time, which costs money.
2. How you unify data using AI-enabled MAP, MATCH, and MERGE (or M3 as we've labelled it) functionality.
3. The way you enrich the data through sources like Microsoft and other partners to gain insight to brand affinity and other interests.
4. How you use built-in AI and analytics to predict customer needs:
a. Predict customer lifetime value, transactional churn, and subscription churn using prebuilt AI models.
b. With product suggestions, use prebuilt AI models to swiftly uncover cross-sell and upsell possibilities.
c. Make your own audience segmentation or use AI-driven suggestions.
d. Use industry standards to establish key performance indicators (KPIs) or create your own bespoke KPIs.
e. Use Microsoft Power BI and Azure Synapse Analytics, a big-data-analytics service, to combine customer data with financial, operational, and unstructured Internet of Things (IoT) data.
5. How you use AI-powered insights to drive meaningful actions:
a. Intelligently orchestrate personalized journeys across destinations including marketing automation, advertising, and customer engagement platforms from Microsoft and other providers.
b. Surface up-to-date customer data and insights in the Microsoft apps that your employees use every day, like Microsoft 365 and Dynamics 365 Marketing, Sales, and Customer Service.
c. Create smart, responsive, low-code bespoke apps from your customer data with Microsoft Power Apps.
6. How advanced CDP capabilities may help you personalize B2B interactions:
a. Shorten sales cycles by obtaining unified account profiles that provide actions and insights on an aggregated or individual basis.
b. Improve lead accuracy and quality by leveraging third-party enrichment sources to enrich account data from industry-leading data suppliers like Leadspace and Dun & Bradstreet.
c. Increase account retention by detecting at-risk accounts with prebuilt, customizable AI churn prediction models.
d. Use LinkedIn to boost your account-based marketing (ABM).
Last but not least…
7. The way you build customer trust on a consent-enabled CDP:
a. Enhance customer experiences in a cookie-less future to respect consumer consent and privacy without requiring any additional workflows or understanding where and how consent data is collected and managed.
b. Harmonize consent across business workflows. Count on a flexible customer data platform (CDP) with always up-to-date consent data refreshed automatically, using connections to the consent data mastering service.
c. Stay compliant with the General Data Protection Regulation (GDPR) and the California Consumer Privacy Act (CCPA) by utilizing data governance capabilities enabled by Azure Purview Preview.
The more I wrote this article the more it felt like 10 things I love about you…
All of these capabilities are built on top of industry-specific data models, such as Microsoft Cloud for Financial Services' Unified Customer Profile.  By enabling Dynamics Customer Insights, we've been able to unleash incredible returns for our customers – give us the chance to do the same for you!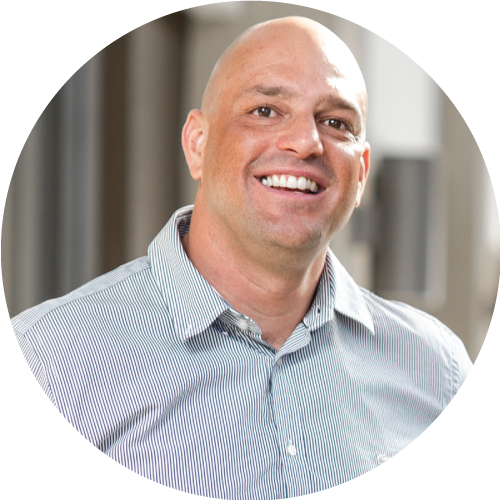 Wynand Roos- Managing Director, The CRM Team
Wynand is the co-founder and Managing Director of The CRM Team and has been an expert in CRM for the past fifteen years. While working for Microsoft, he was responsible for building the Dynamics CRM market and partner channel, from version 1.2 of the software. Today, he is used by Microsoft Corp. to train their sales team across the world and has extensive experience in creating developing CRM solutions using the Dynamics 365 platform.
Don't miss more articles by The CRM Team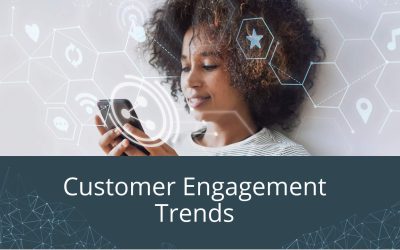 Customer Engagement TrendsBrands are built on the success of their customer service. Instead of it being a responsive measure to deal with complaints, companies are learning to take personalised, empathetic customer care right to the heart of everything they do. This...