The Benefits of
Marketing Automation
Marketing and sales strategies require some finesse in order to convert consumers into paying customers. Long gone are the days when you could cast your net wide in the hopes of catching one or two fish. Consumers are becoming more particular about how they interact with businesses and brands and how they prefer to be marketed to.
People prefer, and often expect, highly individualised marketing efforts that speak directly to them. Although it is possible to provide these kinds of experiences while manually performing your marketing and sales activities, it is no longer practical. You or your marketing team could end up spending a significant amount of time and resources on designing and implementing tailored marketing messages in the hopes of converting one or two customers. Marketing automation systems can help you market more effectively and efficiently.
Sales and marketing teams are more efficient.
Using a marketing automation system frees up your marketing team since they will no longer need to manually manage many marketing-related tasks. That means they will have more time to strategise and focus on generating even better marketing content, campaigns, and projects. The same goes for your sales team.
A marketing automation system usually centralises most, if not all, marketing tasks. This will make your marketing team's jobs easier. It will also assist them to be more efficient since they won't need to switch between systems or learn and use different programs.
Bringing your marketing and sales efforts into alignment.
Marketing and sales are not the same things. Marketing refers to the customer journey. These marketing efforts could include various touchpoints where customers engage with your business, brand, products, or services before they make a purchase. On the other hand, sales refer to the transaction where a consumer purchases something from your business.
Using a marketing automation program puts your marketing and sales efforts on the same page. This makes it easier to nurture leads through the marketing funnel and convert potential customers into buyers.
It makes financial sense.
It is possible to reduce your marketing costs by around 12% while increasing your sales productivity by 14.5% by implementing and using marketing automation systems.
Businesses, especially small businesses, may find it challenging to dedicate time and resources toward marketing efforts. When you say marketing automation software, one person could potentially achieve the same marketing goals as a team consisting of multiple members. This could make your marketing more effective and free you or your team members up to focus on other vital tasks.
Get more from your data.
Gathering, storing, and interpreting your marketing and sales data is vital to designing and implementing effective marketing campaigns. In most cases, marketing automation software can automatically generate reports. These reports could be as broad and general or as specific as you need them to be.
Reports generated by your marketing automation software could help you establish which campaigns are performing well. It can also help you identify potential issues and friction points in your customers' marketing journey. This allows you to see exactly where you are losing leads and therefore losing sales. Knowing where potential customers are exiting your sales funnel can help you improve in these areas, possibly leading to a higher conversion rate.
Focusing on your customers.
When your marketing team no longer needs to manually manage certain marketing activities, they will be able to dedicate their time and resources to other areas. One of these areas is to focus on creating more personalised content and interactions with existing and potential customers.
Your marketing team will be able to create highly unique and personalised marketing messages based on the reports generated by your marketing automation system. These marketing messages could be highly targeted by using the segmentation capabilities provided by your marketing automation system.
These targeting efforts can be amplified when you use your marketing automation system to display marketing messages across multiple channels. These channels include social media, email campaigns, sponsored content, online advertisements, and search ads.
Customers could perceive these targeted marketing efforts in a highly positive light. 44% of clients would move to a competitor if your company does not respond to their inquiries fast enough. More than that, they crave a personalised experience, preferring that overpriced when making a purchasing decision. Marketing automation benefits both your company and your customers by enabling you to provide highly personalised marketing messages that are more likely to convert.
Better marketing systems and processes.
Some marketing systems and processes could become impractical as your business grows. This can make managing these systems or processes labor and time-intensive. Marketing systems and processes that don't meet your company's needs could mean that your company does not grow as much as it could.
Suppose a marketing system is manual or needs to be managed by a specific person in your team. In that case, it makes it difficult to scale it as your company and marketing team grows. Having a marketing automation system could make it easier for various team members to design, develop, implement, and track your marketing efforts.
Better lead nurturing.
Making your sales and marketing efforts more efficient and effective and bringing the two together while harnessing your data and focusing on your customers means that you will be better able to nurture leads. You will be able to generate personalised marketing campaigns and implement and automate these campaigns to see the best return on your marketing investments.
Using a marketing automation system means you can increase your productivity as well as your return on investment. It can allow you to harness the data that you gather in order to provide existing and potential customers with the best marketing messages. These messages could encourage more sales and greater customer loyalty.
The time and resources that you save by using a marketing automation system can be used to focus on other vital areas of your business. For your marketing team, this could mean strategising and implementing more and more successful marketing campaigns that can be automated.
Don't miss more articles by The CRM Team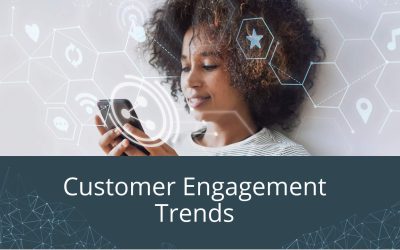 Customer Engagement TrendsBrands are built on the success of their customer service. Instead of it being a responsive measure to deal with complaints, companies are learning to take personalised, empathetic customer care right to the heart of everything they do. This...