Smart Talk: How artificial intelligence is reinventing customer service
Today's customers have high expectations. Hyerpersonalisation. Instant responses to queries. Omnichannel access. Intuitive interfaces. Immersive experiences.
The companies that get it right reap the rewards. Consider the stats:
Research shows that 9 out of 10 consumers are loyal to brands who offer low-effort interactions.1
More than three-quarters of global consumers hold a more positive view of brands that provide proactive customer service notifications.2
To keep customers engaged, however, companies must compete in a marketplace where the benchmarks keep rising. Why? Exposed to the offerings of best-in-class digital juggernauts such as Amazon, consumers develop a taste for the most cutting-edge tech – and soon come to think of it as normal – whether they're aware of it or not.
What are the drivers? A major one is advancement in AI. Today, artificial intelligence underlies an increasing number of customer service interactions – at both the front and back end. From brand spokesperson to service agent assistant, AI is remaking the interface between brands and their customers.
ow? Here are some of the ways.
AI is many customers' first touchpoint.
Many of today's consumers would rather find a solution to a query without having to dial into a call centre or deal with a service agent over the phone. Brands know this, and it's why chatbots are an increasing number of brands' first line of contact.
Easily accessible via a messenger window, bots are great at dealing with simple and medium-complexity queries. The result is quick customer resolution as well as decreased workload for the company's human agents – to whom a bot might refer a customer in the case of a complex query.
By filtering incoming queries in this way, companies are realising that a human touch isn't always necessary. Rather, it's efficiency that customers want.
AI – which is able to draw on a range of data spanning past brand interactions (and often external data, too) – isn't working from a blank slate. Rather, it's able to contextualise queries, making sure replies are targeted, helpful and to the point.
AI is flexible.
Today's customers take digital dynamism for granted. Daily immersion in tech means multi-device connectivity – and interaction on their own terms. For many, their nearest bank branch is an app. Their nearest retail outlet, their mobile. Brands have to keep pace. Access to a device means access to AI, whether via a messaging app or website.
AI is predictive.
Consumer queries are rarely totally unique. An issue or question raised by one customer is likely to soon be voiced by another. AI comes into its own in this area.
On one hand, when the same query is raised by a number of consumers, AI begins to learn. By piecing together the reasons behind a specific type of query, AI can learn to provide more helpful and targeted solutions to subsequent customers – having found what resolution worked best for those who came before.
More importantly, AI is able to predict queries before they happen. Through IoT-enabled devices, weather forecasts, inventory management services and more, AI can now anticipate when a customer is likely to call in, and why.
The result is the ability to pre-empt queries and surprise customers with helpful suggestions, at just the right time.
Building Business Dynamism
Microsoft Dynamics 365 offers an embedded suite of advanced AI capabilities, capable of tackling complex scenarios end to end. Here are four ways:
Omnichannel engagement. A unified platform provides 360-degree customer views across devices, drawing on a full history of interactions, user preferences, and other relevant customer information, even from third-party applications.
Self-service and community access.

Those who prefer to find answers on their own through self-service and community options can now do so – including accessing help via third-party sites, such as Facebook.

Agent empowerment. Agents are able to access a single environment on their desktop or mobile device, allowing for more personalised and meaningful customer interactions. Topic analysis and machine learning scenarios also bring up relevant articles at the right time, meaning agents are equipped to solve cases faster and improve first-time resolution rates.
Unified knowledge. A single source of knowledge provides approved content across channels and lines of business. Knowledgebase administrators can also capture and create content from multiple sources, while the approval workflow makes sure information is accurate and mitigates risk.
Want to find out how you can infuse AI into your customer service?
See our AI-enabled customer service solution.
1 Shifting the Loyalty Curve: Mitigating Disloyalty by Reducing Customer Effort by the Corporate Executive Board (CEB)
2 2016 State of Global Customer Service Report, Microsoft
Don't miss more articles by The CRM Team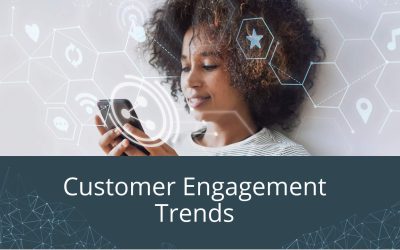 Customer Engagement TrendsBrands are built on the success of their customer service. Instead of it being a responsive measure to deal with complaints, companies are learning to take personalised, empathetic customer care right to the heart of everything they do. This...