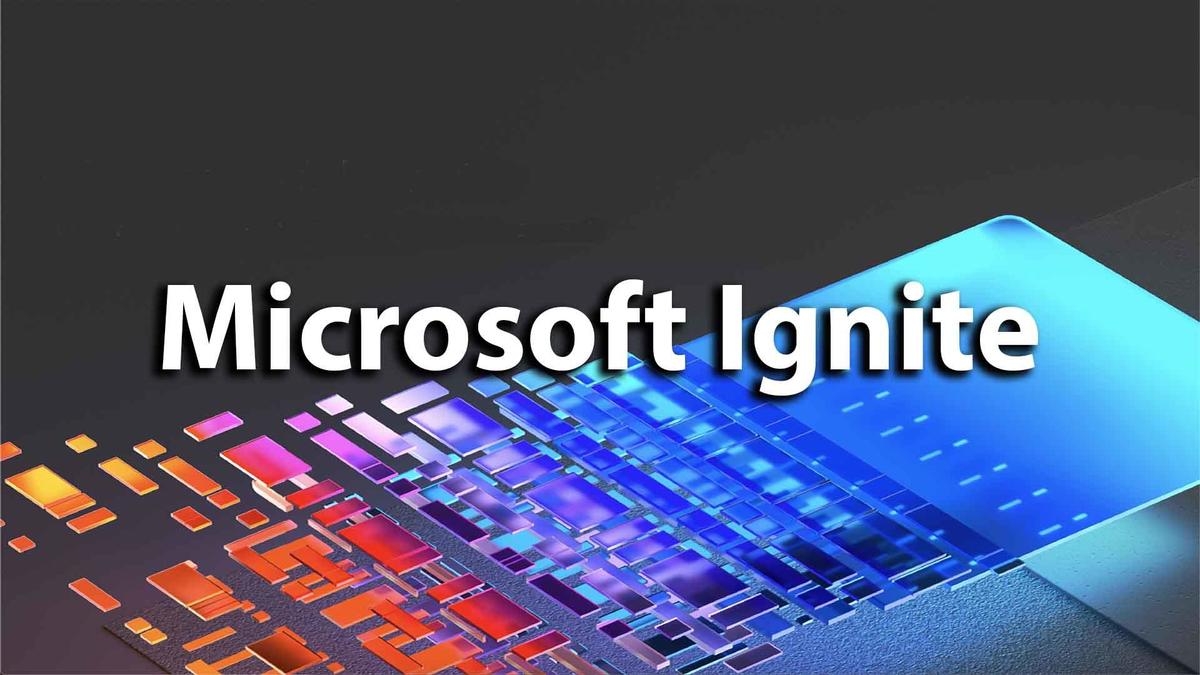 Microsoft Dynamics 365- Ignites with new enhancements
Microsoft Ignite 2021 took place from the 2
nd
to 4
th
March and was attended virtually by over 45,000 people around the world.
Along with dozens of announcements there were a number of exciting enhancements made to the Microsoft Dynamics 365 suite.
Have a look at what we believe are the four with the biggest impact.
Real-time customer journey orchestration
Have you shopped on a website, found something you like, left to do something else and then received an email to say that the product you were interested in is now offered to you at a 10% discount?
This is real-time marketing and retargeting that is going to be a feature within Microsoft Dynamics 365 Marketing.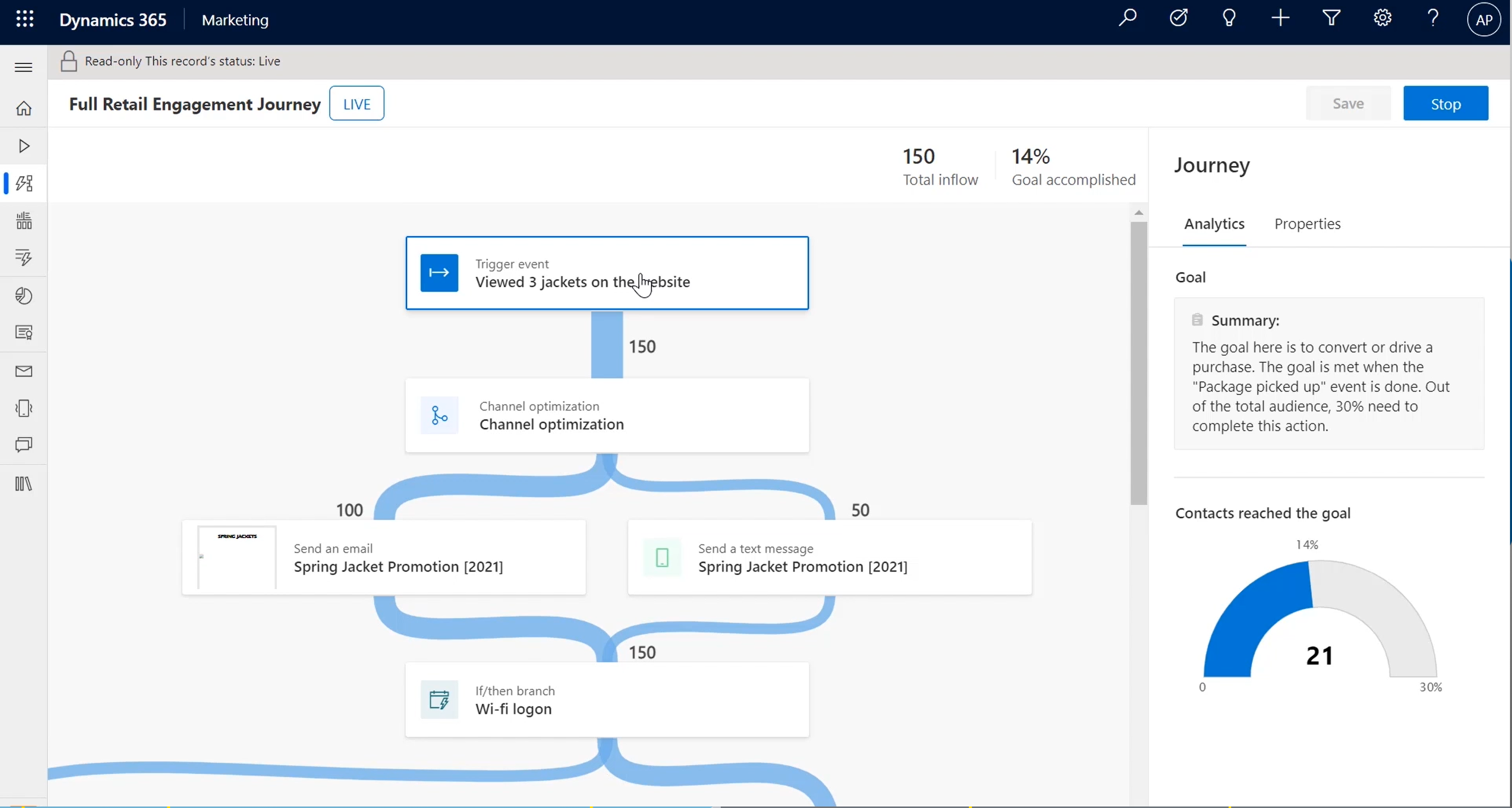 Real-time customer orchestration
This is a move away from segment-based marketing to real-time interactions.  This allows you to create a personalised customer journey for each individual.
To further increase the effectiveness of this, Microsoft are embedding artificial intelligence into this process so that the right offers, images and videos are displayed within the real-time marketing communication.
These real-time messages can be triggered by workflow and Microsoft Automate within Microsoft Dynamics 365 Marketing.
By using real-time customer orchestration you can reduce cart abandonment by 6,5% (MotoCMS) and increase conversion rate by up to 25% (SocialMediaToday).
Real-time action from customer voice surveys
By sticking to the real-time theme it was also announced at Microsoft Ignite that Microsoft Dynamics 365 Customer Service will now include real-time action from customer voice surveys.
Have you responded to a customer service survey after a negative experience and had someone contact you days later – or worse – not at all?
Real-time actions will now be available from a customer survey where an agent will get notified directly after your comment and you will get a call moments later.  It can also be configured that a discount be sent to you, or another win-back initiative, be sent directly after the interaction.
Customer Self-service field service scheduling
Microsoft is really enhancing every aspect of Microsoft Dynamics 365 and the two enhancements to Field service are that customers will be able to do their own scheduling and rate the work of the technician.
Scheduling a technician can be a tedious time consuming activity that often involves phoning a contact centre.  Now customers will be able to do scheduling directly from their own device which will provide a more personalised experience, reduce scheduling errors and rescheduling events.
Customers will also be able to get automated service visit reminders, track their engineer in real-time and submit direct feedback on the quality of the work.
89% of customers want an "Uber-like" technician tracking service, with 86% willing to pay more for a better scheduling process. (CSG International)
Embedded Microsoft Teams within sales – including chat
Microsoft Teams is being tightly integrated to Microsoft Dynamics Sales with sales people now having the ability to chat with customers and colleagues directly within Microsoft Dynamics Sales.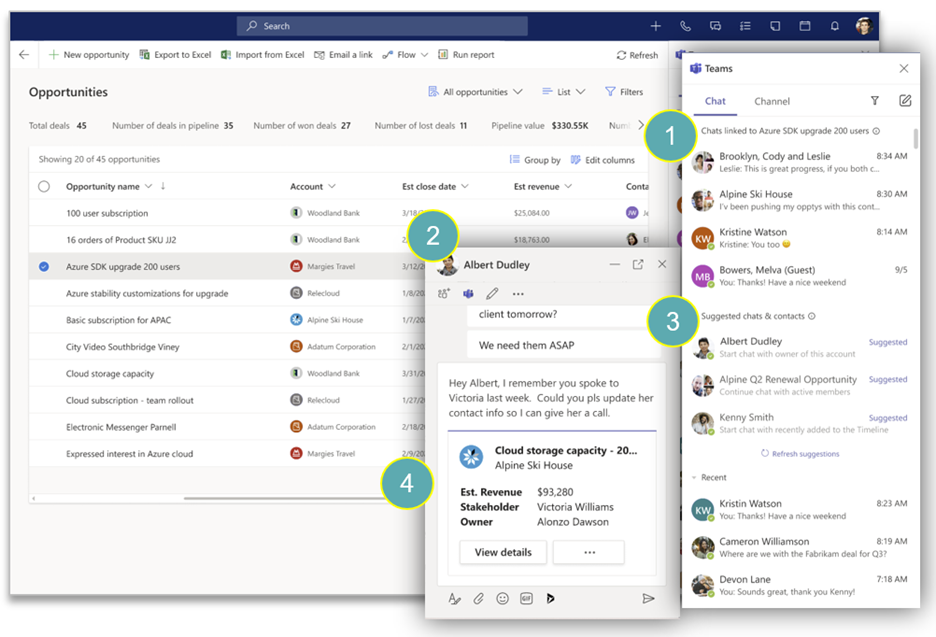 Microsoft Teams embedded directly within Microsoft Dynamics Sales
Not only is chat directly within Microsoft Dynamics 365 Sales but you can also embed a Microsoft Teams dialler experience as well, as well as an extensible video and audio meeting experience.
Hundreds of enhancements within Microsoft Dynamics 365
Apart from the fantastic enhancements announced at Microsoft Ignite there are also hundreds of enhancements contained within the 2021 Release Wave 1 Plan.
This document is 347 pages packed with new features covering marketing, sales, service, field service, finance & operations, human resources, customer insights, customer voice, industry solutions and Power Platform.
Microsoft Dynamics 365 is truly on fire and the aim is to empower your organisation to serve your customers and provide excellent customer experiences.
Find out how you can get these enhancements!
Don't miss more articles by The CRM Team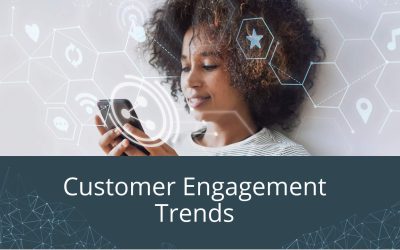 Customer Engagement TrendsBrands are built on the success of their customer service. Instead of it being a responsive measure to deal with complaints, companies are learning to take personalised, empathetic customer care right to the heart of everything they do. This...
Looking for more of the latest headlines?