Marketing Automation is What Your Business Needs – Right Now
$25 billion! If you are not part of this spend chances are your competition is! An April 2018 report from global research agency Forrester concluded:
'As digital marketing complexity increases, more marketers are embracing automation tools to improve efficiency and speed to market. In our first Marketing Automation Technology Forecast … we expect global spending on marketing automation tools to surpass $25 billion by 2023, implying a 14% annual growth rate.'1


Personalisation, reactivity, relevance: words like these get thrown around a lot in marketing today. The reason: giants like Google, Facebook, YouTube and Amazon are changing what customers – including yours – are coming to expect from their daily digital experiences. Gone is the one-size-fits-all approach to marketing. In its place: relevance and reactivity – with a high degree of personalisation.
The Forrester report highlighted:
Spending on marketing technology is increasing – 55% of global marketers planning to increase their expenditure on marketing technology in 2019.
Personalisation enhances customer experience. More than that, it is now the norm:
'Customers reward firms for personal, relevant, and value-added individualized experiences. As personalisation becomes the standard, consumers now expect this level of engagement across channels and digital touchpoints. Marketing automation technologies can help marketers scale their personalisation efforts.'
Slick, speedy, insightful and intelligent, top-tier marketing automation tools are remaking how marketers both reach and talk to their customers.
What is marketing automation exactly?
At base, marketing automation is a customer relationship management (CRM) solution that allows companies to run massive marketing campaigns with ease. No mess. No fuss. No unnecessary admin. More than that, marketing automation means companies can track and nurture leads at the touch of a button, sync customer information into a centralized hub and reach prospects in new, tailored, automated ways.   In a nutshell: gone are manual processes. Ditto for misaligned marketing and sales goals. In their place is a single solution that handles all elements of the marketing process, leaving marketers free to focus on the creative and relationship-based elements of their roles, not the admin burdens.
What can I do with a marketing automation tool?
It's all about accuracy and ease. Marketing automation covers:
Social marketing
Landing page creation
Campaign management
Prediction and scoring
Lead management
Social marketing
Email marketing


More specifically, marketing automation is about:
Reaching out to prospects – With automated, customized messages across email, web, social media, and text.
Qualifying leads – Understanding where customers are in the purchase journey, and providing relevant information.
Suggesting the right products at the right time – By storing purchase histories, customer information and methods of contact, marketing automation means customers receive relevant suggestions – not the same old shot-in-the-dark product recommendations.
Information sharing between marketing and sales – By sharing insights gathered during the marketing process with sales teams, the entire organization becomes more reactive, responsive and attuned to customers' needs.
Running multichannel marketing campaigns with ease – Marketing automation allows organisations to set up orchestrated email marketing, web landing pages, webinars, phone calls, events and more.
Leveraging the power of social media – More and more of our time is spent on social media channels. Marketing automation helps companies not only build up a robust social presence, but source new leads, and engage meaningfully with prospects.
Hand over sales-ready leads – Marketing automation allows companies to identify which leads are ready for sales engagement, with lead scoring and sales readiness grades.
Customer journeys are the sum of individual personalized experiences with a brand. With marketing automation, companies can tailor every interaction based on customer data to create resonant, seamless journeys through every brand touchpoint.
Upping the upside
The benefits of marketing automation are many, but here's a snapshot:
The ability to both automate and streamline the segmentation process to find the right audiences rapidly and at scale.
Messaging and landing pages are tailored automatically using customer profiles.
Creating relevant and personalised experiences becomes possible, with a few simple clicks.
A great marketing automation tool's other great feature is what it lets marketers know about campaign performance. Integrated analytics allows companies unprecedented insight into how their campaigns are performing. Meaning ROI is never murky, and the result of campaign spending is always crystal clear.
The sum-up
With marketing automation, companies can effectively and meaningfully connect with customers through their purchasing journey, no matter how far along they are, be it acquisition or advocacy.   Providing great, relevant content to customers in the way they prefer not only drives sales, but helps turn prospects to brand advocates.
Best of all, it's automated. And happens in a snap.
Do you want to learn more about marketing automation? Read what our marketing automation solution offers you.
References 
1 https://go.forrester.com/blogs/global-marketing-automation-spending-will-reach-25-billion-by-2023/
Don't miss more articles by The CRM Team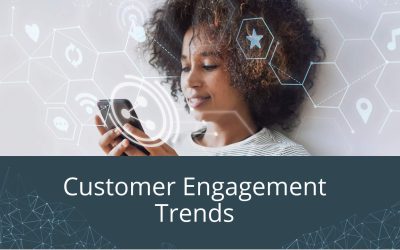 Customer Engagement TrendsBrands are built on the success of their customer service. Instead of it being a responsive measure to deal with complaints, companies are learning to take personalised, empathetic customer care right to the heart of everything they do. This...