How to Enable an Extended Sales Team
There are real opportunities out there. Make the most of them.
Sounds like strange advice in the current market, doesn't it? It shouldn't. When times get tough, many make the mistake of losing confidence. They focus inwardly, looking to consolidate what they have, rather than outwardly: on what could be. This is unnecessary self-sabotage!
Rather: vision, guts and a little ingenuity can make all the difference, separating the winners from the losers.
A major opportunity every business should be exploiting is this: Creating extended sales teams. By viewing everyone in your business – yes, everyone – as a salesperson, you immediately increase your sales potential.
Selling is no longer about the gift of the gab – it's about building trust. And that means that everyone in your business can – and should – sell.
In fact, those people who already work for you are actually in the best position to do so. For example, who better to up-sell a deal than a service technician who is always on the front-line delivering to customers?
It's true – not everyone understands the world of sales. So, sales managers may need to step in to provide guidance at first – showing those new to the process how to identify opportunities. Putting incentive structures in place is key too, as it will change the behaviour people have in seeking out new sales avenues.
The first step? Focus on your service people. Service teams interact with clients every day, throughout every stage of the post-sales cycle. That interaction equates to trust – trust that's been built up over time. Here are a few ideas on how to leverage their abilities:
Create referrals – Referral leads convert at a higher rate than typical leads. Not only that, but referred customers tend to spend more. If you're not exploring this avenue with your service people, you may be losing out.
Ask for customer feedback – Develop a culture of gathering (and sharing!) feedback. Use that information to learn and grow. Ask your marketing team to develop a set of key questions, then get your service people involved deployment. Use the feedback gathered to help improve both your product development and sales processes. Your service people are on the ground – they can access insights others simply can't. Change what needs to be changed on the basis of what you discover and, if need be, rethink your approach. Also, share the changes you made with customers who gave you the feedback in the first place. They will feel appreciated and are more likely to give you more feedback in the future.
Cross-sell, up-sell and even down-sell – Have a client with a basic plan or product? Get your service teams to ask well thought through, quality questions; they understand customer needs and pain points better than anyone else. This means they're best positioned to make recommendations about how customers can access better services. Don't discount down-selling either: if a client is wavering, a basic plan can be a way of retaining their business, with the potential for growth in future.
Capitalise on online chat – The market has changed. Digitisation, fluidity and instant communication are the order of the day. Customers have come to expect fast responses and real-time interactions. The right person providing the right information online can both improve customer experience and shorten the sales cycle.
There was a time when marketing teams simply handed over leads to sales. Those days are gone. Now, marketing is operating ever further into the entire sales cycle, taking customers ever deeper into the journey.
This means that your marketing teams are increasingly important to the sales process. It also means that they need to be more knowledgeable about sales (and how your business runs) than ever. Here are a few tips:
Integrate and educate. Enable your marketing teams to close deals – and then, help them to close more. Part of this means taking a tactical and strategic approach to your marketing activities.
Identify and attract prospects that are easier to sell to. An easier sale frees up the time and resources you need to drive other areas of your business forward.
Generate the right leads – Use your marketing team to help generate the leads you need to support the sales team. Having the right leads that are more likely to convert is better than generating tons of the wrong leads.
Increase your close rates. Market more intelligently to attract the right people with the right message. Then, make sure that every touch point you have with them is consistent and equipped to drive maximum value.
The final addition to your extended sales team? Guess what – they're your customers themselves.
Here's the key: customers are not only the people you sell to. They're also the people who can help you sell.
Customers can be a great source of new sales leads. Leverage your customers' networks to explore new opportunities and open new doors. If you've worked well with a customer and developed rapport, you're well positioned to ask for references into other business units or departments in their company.
Existing customers can also be extremely effective last-inning closers too. If there's a deal in the pipeline or a lead who's on the verge of buying – but who is not yet quite convinced – ask an existing customer to help close the deal. 'My experience with the company was great' is often just that little bit more effective as a sales tool than 'Your experience with our company will be great'.
So, here's the deal: don't be afraid to go big
And by 'big', we mean broad. Involve everyone. Think outside the box. Getting new people invested in the sales process means gaining access to new perspectives and new ways of connecting with customers. It also means growing your sales team instantly – from 5 to 50, or from 50 to 500.
Sales is no longer about smooth talking – it's about building trust and long-lasting, mutually beneficial relationships with customers. With a little guidance and the right incentive structures in place, you can empower anyone in your business to build and grow the kind of connections every successful business needs.
Don't miss more articles by The CRM Team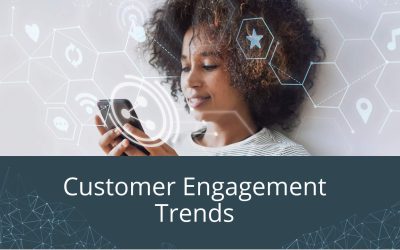 Customer Engagement TrendsBrands are built on the success of their customer service. Instead of it being a responsive measure to deal with complaints, companies are learning to take personalised, empathetic customer care right to the heart of everything they do. This...