What's up with WhatsApp?
Engage with customers who prefer using WhatsApp.
Send more messages with lesser effort

Efficient two-way communication with customers, depending on their needs. Customers can directly contact you for additional information or assistance through WhatsApp.

With the inclusion of 7 different multimedia attachments – audio, video, documents, images, location, contact information, and text, you can answer customer queries & relevant details

With quick replies, you can send more messages with lesser effort. The system will not keep customers waiting! Respond to customers beyond business hours to keep them updated & never lose touch with your prospects.
Ready to build your WhatsApp presence quickly and easily?
of people who message businesses said they were more likely to shop with a brand they could reach through a messaging app.
of consumers surveyed are more likely to shop with a business they can message directly.
say they will message with businesses more over the next two years
From reactive to proactive
Adapt. Now more than ever.
Expectations of customer service via social channels such as WhatsApp are rising to the point that customers now expect the same level of service from WhatsApp that they're used to from call and live chat.
The Twilio WhatsApp Advantage: One API. Instantly Omnichannel.
By employing the Twilio API, you can quickly deploy, test, and play in the WhatsApp sandbox while you wait for your business to get approved by WhatsApp Business. With Twilio's communication API, you can add whatever channel your customers want and capture all those conversations seamlessly—across channels—to enable truly personal and engaging customer experiences.
Automate with chatbots
If you have access to the WhatsApp Business API, you can add a chatbot to your business account to automatically answer common questions. This can save you time and energy, and it means you'll always be able to send a response within 24 hours.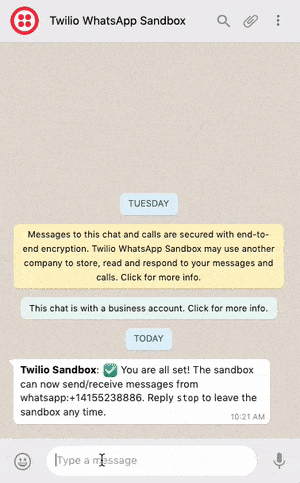 Ready to build your WhatsApp presence quickly and easily?