What Are Some Trends in Improving
Financial Services?
Did you know The Harvard Business Review conducted a study that showed 50 per cent of consumers would trust AI to provide financial services?
The business and finances world is in constant evolution and you want to be sure you can keep up. Financial services institutions have to be on the lookout for the latest trends so that they can offer the kind of services their clients want.
If you are afraid of falling behind, there are some trends and emerging technologies in the financial service industry you need to watch. Read on to learn what they are and how they can benefit your services.
Hyper-Personalisation
The newest generations do not want to be treated like a number or even as a segment of the population. They want personalised financial services.
Hyper-personalisation uses big data to find ways of making the financial experience of a client unique. It works with what the particular client needs at that time and does not use a one-size-fits-all process.
Hyper-personalisation can be as simple as allowing clients to set up automatic mobile payments. It can also be as complex as suggesting investments the individual would be interested in making.
With this kind of personalisation, you will be pleasing the client. You will also be building up long-lasting relationships that will ensure the person relies on your services and your financial institution.
Digital Engagement
Digitisation is the rage in the financial industry. Technology comes in to provide gaps in the industry. This is why banks are cutting down on spending in physical branches and instead investing in self-service digital options.
The customer base depends on mobile and online banking. Smartphones are making it easier than ever to offer targeted services to individuals.
Customer service has also taken a leap into the digital world. Clients expect to be able to chat with someone online or resolve issues via apps. In 2020, the need for contactless transactions and digital options increased and that is only going to continue.
Artificial Intelligence
Data protection laws have increased with the trend of financial services heading toward digitalised options. Regulatory compliance is a concern that financial industries were not sure how to tackle.
AI is the solution. Artificial intelligence for anti-fraud services, as well as data analysis and reporting increase security. AI completing repetitive tasks can increase operational efficiency, as well. Even robo-advisors have become more popular in banking and financial services.
Not only does AI offer a great customer experience, but it also frees up the institution's workforce to deal with more complex activities that AI cannot perform. Robotic process automation is the future.
Collaborating with Fintechs
Banks are beginning to collaborate with FinTechs to improve and grow their digital experience. FinTech companies were seen as the competition at first. Since they could offer the services that the slower-evolving banks could not, they are now part of the evolution of the banking and financial services world.
FinTech companies provide loan servicing, marketing, administration, and other services. This lets the bank offer banking services and products that work with the latest technologies. FinTechs provide the chance of constant innovation.
Bank Loyalty
A challenge that banks face is ensuring they can offer whole bank loyalty even for clients who only have credit cards with them. The client-bank relationship has to extend beyond credit cards. The bank has to provide all  the essential services that a customer needs.
You want to be able to offer excellent services throughout the entire relationship between a customer and you.
Biometrics for Financial Services
This is an excellent option that providers digital transformation and operation efficiencies. With biometric access controls like fingerprints and facial recognition, it can be simple for customers to make payments and perform other services solely through mobile options.
Cross-Platform Services
Financial transactions many times cross over to retail, utilities, and even healthcare services. It can be frustrating and slow for clients to have to switch back and forth between apps and other websites. Providing cross-platform services is essential to solve this.
You can do this with embedded payment services. Turn to mobile pay or hybrid wallets to allow your clients easy transactions without having to switch back and forth between sites or apps. The financial services industry will greatly benefit from cross-platform services.
Chatbots
Chatbots can save, on average, 4 minutes on every interaction. This makes them a huge asset to any financial services provider.
Chatbots provide the 24/7 interaction that clients expect. Financial markets can also benefit from the quick resolutions to problems that they offer. They maximize the customer experience and can allow for customer feedback, as well.
Blockchain
Blockchain can help ensure the safety of customers' payment transactions. It can also help investment banks with challenges they may face.
Blockchains also ensure data security.
Moving Trading Off the Trading Floor
2020 proved that trading does not have to happen on the trading floor. This has opened up opportunities and options. There is now a need to separate financial activities from physical locations.
Zero trust networks can allow for these transactions and are not tied to any location. They still remain secure.
Updating Data Systems
When 2020's shutdown occurred, there were backlogs of loan document processing. It was taking too long to get the loans reviewed and approved.
The data system was too slow to respond to customer needs. It could not provide the real-time information needed. Stronger, faster, and secure technology systems for data are vital for financial institutions.
Improve Your Services
You want customers to be satisfied with your business. Financial services can always evolve and you want to be certain you are at the cutting edge of improvements.
Contact us today to revolutionise your business!
Don't miss more articles by The CRM Team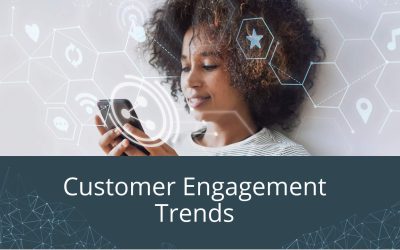 Customer Engagement TrendsBrands are built on the success of their customer service. Instead of it being a responsive measure to deal with complaints, companies are learning to take personalised, empathetic customer care right to the heart of everything they do. This...