Artificial Intelligence (AI):
6 trends to watch for in 2023
In 2023, some fascinating artificial intelligence trends may be able to show tangible growth, according to artificial intelligence trendsetters.
IoT and AI will lead to more advanced devices
2022 was a year of tremendous interest in the subject. There will be no difference in 2023; the world will be more reliant on smart devices.
While artificial intelligence and the Internet of Things (IoT) appear to be separate topics, combined, they can significantly enhance business outcomes. Technology experts consider both technologies an opportunity for innovation, product improvement, and competitive advantage.
An Insight into 2023's AI Technology Transformations
AI technology trends in 2023 will leave both industry and consumers intrigued. One thing is certain: artificial intelligence has limitless potential. According to Sundar Pichai, the CEO of Alphabet (Google), "AI will have a greater impact on humanity than fire, electricity, and the internet." The possibilities are endless, from personalized marketing to remote documentation.
In the midst of the technological revolution, industries worldwide are undergoing digital transformations. According to International Data Corporation (IDC) research, artificial intelligence spending will surpass $500 billion globally by 2023. Every sector and the world at large will be reshaped by AI's widespread applications.
Below are some major trends in 2023 that will have a lasting impact:
1. The intersection of artificial intelligence and cybersecurity
With the growing use of AI in security operations, automated defences against cyber threats will continue to develop naturally.
The use of artificial intelligence (AI) in cybersecurity extends far beyond its predecessor, automation, and is used to perform routine data storage and protection functions. Cybersecurity artificial intelligence, however, goes beyond this and supports more complex tasks.
An example of an application of advanced analytics is the detection of ongoing threats or suspicious trends. Despite this, not all news is good. It will be a never-ending game of cat and mouse between cybercriminals and organisations as AI becomes more prevalent. Therefore, firms who are concerned about staying in business must begin integrating AI into their cybersecurity as soon as possible.
2. Natural Language Processing (NLP) Will Replace Typological Methods
At present, natural language processing is the most widely used AI mechanic because it comprehends human speech without requiring text input. Additionally, this technology analyses and converts different languages into computer codes that enable apps and websites to run efficiently. YouTube has adopted this AI-powered NLP technology to allow users to search, play, and access other controls via voice commands.
3. The popularity of Predictive Analysis
One of the most fascinating areas of artificial intelligence is improving predictive analytics, which has applications across a variety of academic sectors. It makes predictions about the future based on previous data using data, statistical algorithms, and machine learning techniques. The goal is to accurately anticipate the future using data from the past. The rise of predictive analytics is not something that happened overnight; rather, its history shows that it has only recently been gaining traction.
4. Enhanced working conditions
Our jobs will become more efficient and more effective with the help of robots and smart machines in 2023. This could be in the form of smart devices providing access to data and analytics instantly. Both retail and industrial workplaces are increasingly using this type of technology. AR-enabled headsets could overlay digital information on the world around us. As an example, real-time information could be provided to assist us with identifying hazardous conditions in maintenance or manufacturing – such as showing when a component is hot or a wire is likely to be live. In the future, management and leadership teams will have access to real-time dashboards and reporting, which will allow them to keep track of operational efficiency in real time. As AI-powered virtual assistants gain prominence in the workplace, they will be able to answer questions quickly as well as suggest more efficient methods of accomplishing tasks. As a result, developing the ability to work with and alongside intelligent, smart machines will become increasingly necessary to succeed in the workplace.
5. Adaptive AI Sharpens and Elevates Customer and Brand Experiences
With the aid of artificial intelligence, leading retailers are improving operational efficiency and customer service. Instead of being just transaction centres, retail stores are increasingly becoming focal points for brand awareness and customer experience. Adaptive AI will drive this transformation. One of the biggest growth areas will be frictionless shopping with computer vision and edge-based AI systems that will reduce wait times and ease hassle. With on-premises infrastructure, future retail stores will also be able to tailor seamless customer journeys and deliver hyper-personalized recommendations.
A physical store's in-store analytics will provide intelligent insights based on dwell time across different aisles. The integration of past shopping histories across multiple channels and factoring in demographic profiles will enhance the customer experience and make experiential shopping highly immersive and enjoyable for them. In addition to omnichannel management, adaptive AI will provide highly contextual assistance. Conversational AI, coupled with emerging technologies like AR and VR, will augment the capability of store employees to redefine the shopping experience entirely in brick-and-mortar stores.
6. Ethical and Explainable AI
The growth of more ethical and explainable AI versions is fundamental for a number of reasons. AI requires information to acquire, which repeatedly requires private information. For countless of the potentially more useful and significant AI use cases, this may be extremely sensitive information like health or financial details. If we, as a society, don't believe in AI or can't figure out how it makes decisions, we simply won't feel really safe handing over our details. The entire system will come to an end. In 2023, AI will make strides to overcome the "black box" issue of AI.
The people responsible for putting AI systems in place will work more vigorously to ensure they have the ability to clarify how decisions are formulated. This will enable them to clarify what details have been used to reach those conclusions. The part of AI ethics will become more prominent, too, as organizations get to grips with eliminating bias and unfairness from their automated decision-making systems. Biased information has already been displayed to lead to prejudice in automated results. This can potentially lead to discrimination and unfair treatment. This simply won't be acceptable in a world where AI plays a significant role in decisions entailing employment and access to justice or healthcare.
It's an exciting time to be in AI, and 2023 will be no different. As responsible AI makes its way into practice and generative AI continues to grow, we can expect many new interesting and innovative use cases soon. As a society, we'll need to pick between the good and bad ones and help people adjust to this fast-changing world.
Join the Digital Transformation
Don't miss more articles by The CRM Team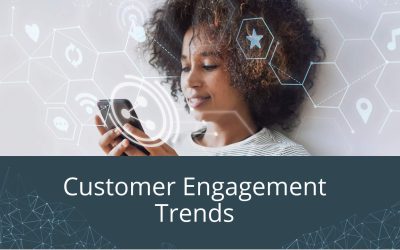 Customer Engagement TrendsBrands are built on the success of their customer service. Instead of it being a responsive measure to deal with complaints, companies are learning to take personalised, empathetic customer care right to the heart of everything they do. This...