4 Tips to Raise Long-Term Customer Engagement
Have you been wondering lately how to improve customer engagement? 
It's no surprise that most of us wish we could improve customer engagement within our companies. But how do we do it? Is there a secret ingredient to figuring out how to improve customer relationships with our business? 
There's not! But there are ways to improve customer engagement based on changing a few things with our businesses. 
Want to know how? Keep reading to learn our top tips for the best ways to improve customer engagement.
Track Data Analytics 
The only way to understand how our company is doing is to track the analytics of our social media platforms and our website. 
By looking at data analytics, we can better understand the type of behaviors our customers exhibit, their preferences, recurring trends, and what types of advertisements work. 
From there, we can decide what type of ads to use more often and which to do away with. Customer assistance can also change based on how customer engagement is going and what we see based on the analytics.  
Almost 60% of businesses worldwide invest in data analytics tools to track how they are doing and how to improve customer engagement on a consistent basis. 
Data analytics can be used to track how past advertisements and promotions went and what can be repeated as a means of engaging customers. Analytics can also help track email opens, lead generations, website clicks, social media engagement, and so much more. 
Tracking all parts of customer engagement technology and analytics is crucial to understanding what is working. This is also a way to understand what is not working to save money long-term. 
Always Ask for Feedback 
If we are searching to be the best company we can be when it comes to improving customer engagement, what better way to do than ask for feedback from the customers themselves? 
When we ask for feedback, we're hearing directly from the sources themselves about what needs to be improved, what changes they wish to see, and anything else they want us to know. 
So how can we get the feedback we want? There are a few ways: 
Email out surveys to subscriber lists

 

Attach surveys to invoices or receipts

 

Publish surveys on the website for any digital browser to see when passing by the site

 
After customer support calls, a survey could be sent out to the customer to learn about their experience with the company. 
There are other ways to ask for feedback as well, these are just a few. 
Based on all feedback we receive, we need to make the changes in order to satisfy our customers and improve the relationships we have with them. 
Learn From Competition 
More likely than not, every business has a competitor. Our is no different. 
However, customers choose to work with businesses based on the support they feel and what they feel they align with more. In reality, there may not be much else that is different from two competing companies, or three, or four. 
To make sure we stay on top of our customer experience, paying close attention to competition can drastically improve customer engagement. 
How? Seeing what others do can help us understand what we could be doing better. It could also inspire us or motivate us to do something differently that customers may like better or resonate with more. 
Use the Right Technology to Improve Customer Engagement 
In our digital world, it can be hard to keep up with the ever-changing technology that presents itself. And that's okay. But what we do need to ensure we do is keep up with some of the technology that will help improve customer experiences with the company. 
As mentioned before, one of these pieces of technology would be data analytics tools. Another would be using software that can automate some of the processes the company uses. 
For instance, email can be set on automation so that other things can be done. By automating emails, the customer experience will improve because they are already ready to be sent and will automatically send when an action is completed by a customer. 
If someone comes across the company's website, we don't want them to feel lost or have any questions go unanswered. Using virtual agents is one way to ensure that we interact with customers as much as possible. When customers know they can head to a website and receive the answers they are looking for right away, the overall customer experience improves, and they are more likely to come back again. 
The software used by each company may depend on the type of solutions that are needed. A retail company is going to need a different experience than a finance company for their customers. By tailoring it to the "type" of customer that we have, it is more likely that our customers have a better customer experience. 
Use These Tips to Improve the Customer Experience
One of the most important areas of business is satisfying customers. Without them, a business cannot thrive and grow like we hope it will. 
So how do we ensure our customer experience is the best it can be? By using these tips for customer engagement, our businesses can improve customer relationships and the customer experience exponentially. 
Ready to try this out? Check out our different software solutions to see which one fits best! You can also contact us for any questions! 
Don't miss more articles by The CRM Team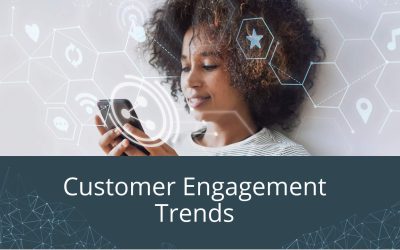 Customer Engagement TrendsBrands are built on the success of their customer service. Instead of it being a responsive measure to deal with complaints, companies are learning to take personalised, empathetic customer care right to the heart of everything they do. This...