Not Using a CRM Solution? Here's 12 Reasons Why You Should Be.
Reach the customers you need – at the right time
There's an old saying in the advertising industry – only half of advertising works, you just never know which half. However, with many businesses facing increased competition and tightening margins, they simply don't have the luxury of a 50% wasted spend.
What's needed is a new approach – a way to maximise marketing ROI. This is where CRM comes in. By allowing you to better understand and segment your customers, it's far easier to reach the right people at the right time.
Meaning: targeting those who are in-market, and who have a problem you can solve.
Access information anywhere
Keeping business humming means customer information needs to be accessible anywhere, at any time. Cloud-hosted CRM solutions allow just this, from a host of mobile devices.
The result: business is no longer confined to the office; gone are the days of 'I'll need to get back to you with that information'. Why? Key data is always on-hand.
Streamline quotes and invoicing
By managing all your invoices and quotes from a central platform, you reduce the time it takes to respond to current and prospective customers. A faster quote can help close a sale. Smoother invoicing means better relationships too – and no more internal delays.
Get to know your people better
CRM solutions help managers get to know how their teams are performing – and who their best people are. With insight into numbers of deals closed, schedules and more, managers can more intelligently assign tasks, know who's available at a given moment and optimise their teams' performance.
Get social
Customers are more social than ever. And that doesn't mean a face-to-face chat. Companies that get where digital is going know that they need to reach customers in the way they want to be reached.
More and more, that means social media. Maintaining a strong social media presence is critical – for both engaging consumers and getting their feedback. By integrating with social media platforms, CRM solutions allow businesses to manage it all from a single hub.
Connect quickly, market more
Want to stay in customers' minds? Reach out. With a CRM solution, marketing automation is easy. By creating email blasts, newsletters and other campaigns easily, you can connect with customers as often as you'd like – with a minimum of fuss.
No more data loss
Lose a member of the sales team to another company? Have an IT issue? Have notes fragmented over different files? All can mean lost leads and lost customer data. CRM solutions keep everything recorded and centralised. Moreover, cloud technology means no more threat of a database meltdown.
Keep admin in its place
Routine tasks sap time and energy. Energy that could be far better spent. Manually filling out forms, recording customer data, reporting …. all eat employees' time.
With a CRM solution, these chores can be instantly automated. The result is not only more time for meaningful work, but a far smoother sales process end-to-end.
Get more insight
Data analysis can be a key strategy driver – when it's done right. Yet the reality is: it often isn't.
With access to all a business's key data in one central hub, CRM solutions can generate the type of insight decision makers need to drive business forward intelligently.
Isolating untapped opportunities. Reaching new markets. Optimising resource allocation. Understanding business performance quickly. All become much, much simpler with CRM.
Get personal
Today's customers expect to be treated as individuals. The reason: the digital economy. Every day, consumers interact with brands that 'know' them, and which suggest product and services that will hit the mark.
One-size-fits-all is a thing of the past. With a CRM system, you ensure your communications are always tailored and relevant, underlining your interest in your customers' individual needs.
Up- and cross-sell more intelligently
Identifying – and making the most of – opportunities to up- and cross-sell relies on one thing: insight. Meaning: understanding each customer's unique wants and needs.
For businesses with thousands of customers, the only way to do this is with data. By analysing both current and previous purchases, CRM solutions are able to intelligently suggest other relevant products a customer might like.
More than that, CRM solutions can give agents instant insight into customer profiles, allowing them to further personalise interactions.
The result: from impersonal and uninformed to tailored, targeted and relevant.
Scale and select
Many growing businesses are cautious about cash flow. And with good reason. Many don't need – or can't justify – the expense of top-of-the-range digital solutions, particularly when they're just starting out. However, the great thing about cloud CRM solutions is that they're scalable. As businesses grow and new needs arise, new applications and tools can be added, meaning the system grows with the organisation.
Don't miss more articles by The CRM Team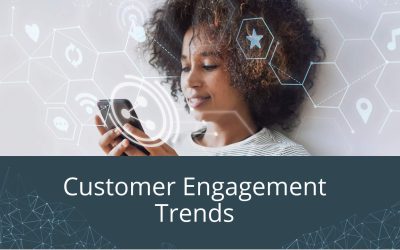 Customer Engagement TrendsBrands are built on the success of their customer service. Instead of it being a responsive measure to deal with complaints, companies are learning to take personalised, empathetic customer care right to the heart of everything they do. This...
Looking for more of the latest headlines?