Increasing your marketing effectiveness with ClickDimensions & Microsoft Dynamics 365
Increasing your marketing effectiveness
If you have Microsoft Dynamics 365, you're probably using the marketing area to automate many of your marketing tasks. But you may get to a point where you need greater functionality. We recommend adding in ClickDimensions. ClickDimensions is an award-winning marketing product that runs inside Dynamics 365. It's not a separate program, but lives inside it, so you don't have to learn a new system.
We love it. And you'll see many of our packages come with ClickDimensions bundled in.
We'll outline the marketing benefits of Dynamics 365, followed by the extra ClickDimensions brings.
Dynamics 365 Marketing area
The marketing area within Dynamics 365 gives you the following benefits:
1. Speed up campaign creation. With accounts, contacts and leads all stored in Dynamics 365, it's simple to create target lists for your campaign. Just chose the inclusion criteria and draw the records automatically from Dynamics 365. Lists can be static, or dynamic. If you chose a dynamic list, when information is updated inside Dynamics 365, your list will get updated also.
2. Easily co-ordinate team activity. Once you have planned your campaign, tasks can be allocated to team members. You can even require certain tasks get sign off within Dynamics 365 for Marketing before the next stage can be carried out. Campaigns can use a variety of distribution methods.
3. Track campaign effectiveness. Once campaigns are sent out, reports can be generated on status and progress. Because the campaign is tracked within Dynamics 365, the return on marketing investment can be calculated. Accurate insight can be gained into which deals resulted from which campaigns.
4. Hear what people are saying about your campaign. If you have ten or more users on Dynamics 365, you'll have free access to the social engagement module. This is a powerful way to view what is being said across social media channels about your campaign (or even just your business). 
ClickDimensions Email Marketing and Marketing Automation for Dynamics 365 empowers marketers to generate and qualify high quality leads while providing sales the ability to prioritize the best leads and opportunities. Providing email marketing, web intelligence, lead scoring, social discovery, web forms, surveys, landing pages, nurture marketing, subscription management, campaign tracking and more, ClickDimensions allows organizations to discover who is interested in their products, quantify their level of interest and take the appropriate actions.
Adding in ClickDimensions gives all the benefits above, but in addition you'll be able to…
1. Discover where your sales are coming from. ClickDimensions gives you detailed web analytics. Unlike other web analytics tools, ClickDimensions traces individual activity separately. Once a person identifies themselves, through filling in a form, downloading an article etc., ClickDimensions then allocates all their previous anonymous activity to the new Dynamics 365 record. Coupled with Dynamics 365, this means that every sale can be traced back to how they first made contact with you: which web page they first went to, whether they came via Facebook, Twitter etc. Consequently, you get detailed insight on what works, and what doesn't. While you can work out your campaign Return on Marketing Investment (ROMI) with Dynamics 365, ClickDimensions broadens this to allowing you to calculate your ROMI for all your marketing activity.
2. Send personalized communication that really converts.
Like many programs, ClickDimensions allows you to create beautiful emails effortlessly. Simply drag and drop content into preformed templates and autofill details from lists in Dynamics 365. Once you send out the campaign ClickDimensions tracks which sections of the email was viewed the most, presenting you with a heat map at the end of the campaign. As you learn which parts of the mailer people interact with most, you can continually improve the design to improve the interaction and click through rate. You can also do A/B testing during a campaign, and send the design that wins to the rest of your campaign list. ClickDimensions also allows you to send personalized SMSes in bulk, which people can reply to.
3. Never miss an opportunity to capture a prospect's info.
ClickDimensions allows you to rapidly create forms, automatic responders and landing page scripts so that your visitors have multiple opportunities to identify themselves. You don't even need to know any HTML. All this information is automatically stored inside Dynamics 365, so you'll never lose track of it.
4. Nurture leads until they are ready to buy.
After a lead makes contact, easily automate a follow up process. Set up multiple steps that activate according to certain criteria being met. This could involve sending an email newsletter, arranging a call, or sending certain product information. Form multiple options that react to what the lead does. Workflows and lists within Dynamics 365 will adjust automatically as the program progresses, and your lead should be feeling engaged with.
5. Never hand over dud leads again. ClickDimensions has an automatic lead scoring system that places leads in order of priority.  You can customize the scoring according to your specific criteria and then create thresholds that must be met before handing over a lead to sales. These can be tested and adjusted until you are confident that a lead with a certain score is of enough quality for sales to follow up with.
6. Understand your prospects better. Draw publicly available data from your prospects' FB pages, Twitter accounts, YouTube, Flickr etc. into Dynamics 365. ClickDimensions will present the data next to the record, giving you a fuller understanding of your prospects.
7. Capture event information within Dynamics 365. ClickDimensions integrates with many of the popular event management tools (WebEx, Eventbrite, GoToWebinar etc.) This information will be brought into Dynamics 365 so that people who attend can be tracked, like any other prospect or lead.
8. Use surveys to engage more with your prospects. Surveys can be created and emailed to leads, accounts, and contacts to get valuable feedback. All responses are automatically stored in the account record in Dynamics 365.
If you want to find out more watch this brief overview:
Want to add ClickDimensions into your current Dynamics 365?
If you already have Dynamics 365 for Marketing, ClickDimensions is extremely quick to deploy. Fill in your details below to see what this could look like. We'll get in contact to arrange a demonstration.
Don't miss more articles by The CRM Team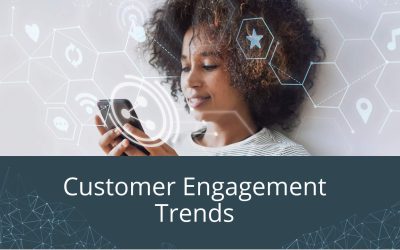 Customer Engagement TrendsBrands are built on the success of their customer service. Instead of it being a responsive measure to deal with complaints, companies are learning to take personalised, empathetic customer care right to the heart of everything they do. This...