Are you a struggling sales manager? CRM is coming to your rescue!
It's a hard job being a sales manager.
On one hand, you've got company leaders (and often the CEO him- or herself) breathing down your neck, pointing at the targets and asking when (not if) they're going to be met. On the other hand, you have your sales team to support. Sales teams not only look to you for guidance, motivation, and help, but you look to your team to stay on top of leads, and keep business flowing.
It's a delicate balancing act. And it's incredibly tough to get it right alone.
But, help is here. And it comes from the Cloud.
Enter CRM
At core, CRM systems are about making the sales process easier, faster and more intelligent. That keeps execs happy and the sales team too.
There's better traction, better management and better insight all around. And the results translate into tangible improvements that mean business starts – and stays – humming.
Let's look at some of the benefits:
Safe, secure, sorted
On one hand, CRM systems make the pipeline easier to manage. Everything from automated call-backs to reminders to follow up with prospects mean that hitches, snags and forgotten phone calls become a thing of the past.
More than this, all the info is centralised – and super secure. For any corporation, data loss can be catastrophic. Imagine all your contacts, all your information, all your built-up leads, links and connections – gone. In a puff of smoke.
CRM means the possibility of that drops to zero. A safe, secure, and organized place for all your sales contacts means you never have to worry about data loss, or even just forgetting where you put that potential lead's business card.
Transparent & clear
Tension mounts for sales managers when sales numbers become vague. How many deals have been closed? How far along is the team toward meeting their target? Will they get there?
A clear line of sight is critical. This is both in terms of total sales to date, as well as how productive each team member is being. And it's what sales managers need to stay on top of things. With CRM's inbuilt features for call logging, productivity measures, call lists and more, managers can access all the info they need – at the touch of a button. More importantly, they can identify their team's standout sellers – as well as those who might need a helping hand.
With access to accurate forecasts, clear revenue metrics, an at-a-glance view of open and closed deals and more, managers get a genuine boost. The result? Sales teams get stronger. And sales get ready to skyrocket.
Time better spent
Admin is the enemy of the productive salesperson – or sales manager. Time spent collating information, building reports, checking in with team members or just adding up the figures all drain time away from the crucial activities that actually bring in business.
Time spent on admin is time lost to generating sales. Why not automate?
By allowing a CRM system to deal with admin, sales managers and their teams are freed up to do work that really counts. But more importantly, CRM systems continually update. This means no more waiting for the weekly sales meeting to see where things stand. Instead, everyone is up to speed, all the time. And the numbers are always current.
No more lags. No more surprises.
A window on the future
CRM keeps managers up to speed on what's happened – but it's also clever enough to suggest what tomorrow might hold, too.
With artificial intelligence, CRM systems are able to understand the data they ingest and look for patterns. These insights can help sales managers manage expectations and know what to expect. Forecasting and trend analysis means your CRM system likely knows what's around the corner before you do.
With all this and more, it's time to plug into CRM. Find out what CRM can do for your business today.
Don't miss more articles by The CRM Team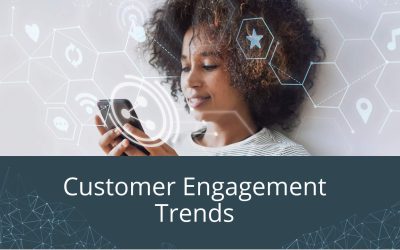 Customer Engagement TrendsBrands are built on the success of their customer service. Instead of it being a responsive measure to deal with complaints, companies are learning to take personalised, empathetic customer care right to the heart of everything they do. This...
Looking for more of the latest headlines?